Description
About the Classes
Suitable for everyone, these meditation classes offer simple, practical methods to improve the quality of our lives and develop inner peace. These classes focus on using Buddhist understanding to help us solve our daily problems, let go of negative minds and find the lasting happiness we seek.
Each class includes guided meditation, a practical teaching, and an opportunity to ask questions. Although taught as a series, each class is self-contained and can be attended individually.
Upcoming Class Schedule & Topics
Spring 2023 – Modern Buddhist Meditations for a Kind Heart
It sometimes feels like the way to protect ourselves and to be happy is to put ourselves before everyone else. In truth, however, people who only care about themselves are truly miserable. All the happiness there is in this world arises from wishing others to be happy. These classes will introduce the meditations on love, compassion, and the mind of enlightenment. 
April 16 – Feeling close to others: Training in Affectionate Love
April 23 – Developing a caring attitude: Training in Cherishing Love – Equalizing Self and Others
April 30 – Letting go of obsessive self-concern: Training in Cherishing Love – Exchanging Self with Others
May 7 – Becoming a source of happiness: Training in Wishing Love
May 14 – Wishing to protect others: Training in Universal Compassion
May 21 – The mind of enlightenment: Training in Actual Bodhichitta
May 28 – A happy and meaningful way of life: Training in the Six Perfections
June 4 – Special Class: Finding strength and inspiration: How to rely on a spiritual guide
June 11 – Training in taking away suffering
June 18 – Training in giving happiness
---
About the Teacher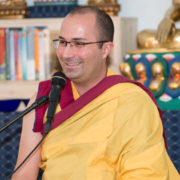 Gen Kelsang Tashi is a Buddhist monk and the Resident Teacher of Kadampa Meditation Center Miami. He has been practicing and teaching meditation in the Kadampa tradition for over 15 years. His gentle approach to meditation emphasizes the importance of keeping a happy and positive mind. He is appreciated for his clear, light-hearted and practical presentation of Buddhist teachings.
---
Cancellation Policy
If you cancel more than 24 hours before the start of the class/event we will refund all except 25%. If you cancel within 24 hours before the start of the class/event, no refunds are given. Any non-refunded fees arising from cancellations are donated to the NKT-IKBU International Temples Project.