Foundation Program: In-Depth Study Program in Modern Buddhism
Classes held:
Wednesdays, 7:00pm – 9:00pm

In-Depth Study Program
with Resident Teacher, Gen Kelsang Tashi
This is not a drop-in class. Enrollment is required. 
Cost: $65 per month
(Standard Membership required – includes these weekly study classes and access to all our drop-in meditation classes)
Location:
Kadampa Meditation Center Miami
316 Miracle Mile, Coral Gables, FL 33134
The Foundation Program (FP) is designed for anyone who wishes to deepen their understanding and experience of Kadampa Buddhism through a systematic study of essential Buddhist texts and their commentaries by Venerable Geshe Kelsang Gyatso.
Anyone can join and experience the great benefits of being part of this regular study program. Through this we can improve our good heart, our wisdom, and our cherishing of others by going deeper into our study and meditation practice.
Universal Compassion: Inspiring Solutions for Difficult Times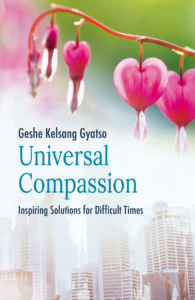 The current book being studied is Universal Compassion, by Geshe Kelsang Gyatso.
The heart of Buddha's teachings is unconditional love and compassion. In this inspiring explanation of the popular Buddhist poem Training the Mind in Seven Points, Geshe Kelsang Gyatso reveals powerful and far-reaching methods for us to develop these altruistic states of mind. Ancient meditation techniques that have been tried and tested for centuries are brought alive and made relevant to our everyday experiences. Also included is a practical explanation of how we can transform our day-to-day problems—even the most demanding and difficult conditions—into opportunities for personal and spiritual development. By pointing the way to an unchanging freedom and happiness, this book challenges us to grow, and will have a remarkable impact on our life. 
What happens at each class?
Before each class, students study an assigned portion of the text, usually a few pages long, and try to memorize the essential points. Each class begins with short prayers and a guided meditation. The teacher then reads the assigned section from the book while giving commentary to the text. The students then discuss the material in pairs. The teacher and students conclude by deciding what to meditate on in the next class and how to practice during the coming days before the next class.
What are the program commitments?
Students may enroll to study either a whole book or a part of a book. When students join the Foundation Program, they make the following commitments:
To attend every class, unless there is a valid health, family or work-related reason for missing.

To apply effort to memorize both The Root Text and The Condensed Meaning of the Text for each part of the book studied.

To take a written examination at the end of each part of the book studied.

To attend at least one drop-in meditation class or prayer session at the Center each week in addition to these classes.
How to Enroll
For those who are interested in learning more about the program, we will be offering an orientation session for new students on Wednesday, January 11, 2023 from 7:00pm to 8:30pm. During this session the teacher will provide an introduction and overview of the study program, and can answer any questions about the program. 
On January 18, 2023, we will begin our in-depth study of the book Universal Compassion by Geshe Kelsang Gyatso. It will take approximately one year to study this book. The class meets once a week on Wednesdays from 7:00pm to 9:00pm with some breaks for holidays and special events. 
Please note that formal enrollment is required to participate in this program ongoing. New students may attend the first class for free as a trial before deciding whether to enroll. To ensure the success of the program, those who enroll in the program commit to studying the entire book and attending every class to the best of their ability. 
New students who wish to formally enroll can do so in person at the Center by completing an enrollment form, which will be provided at the end of the first class on January 18th.
Universal Compassion (January – December 2023)
There will be an introductory session on Wednesday, January 11 at 7:00PM for new students. Anyone interested in learning more about this program is invited to attend. Classes will meet weekly starting on Wednesday, January 18, 2023.
Jan 11 – Introduction to Foundation Program – New students welcome!
Jan 18 – Preface & the lineage and pre-eminent qualities of these instructions (p.1-2, 5-10)
Jan 25 – The lineage and pre-eminent qualities of these instructions cont'd (p.10-14)
Feb 1 – The preliminary practices of training the mind (p.15-18, 187-192)
Feb 8 – Meditating on equalizing self and others (p.19-24)
Feb 15 – Contemplating the dangers of self-cherishing (p.24)
Feb 22 – Contemplating the dangers of self-cherishing (p.24-28)
Mar 1 – Contemplating the benefits of cherishing others (p.29-31)
Mar 8 – Special event with guest teacher Kadam Morten
Mar 15 – Group Review & Discussion p.1-31
Mar 22 – Meditating on exchanging self with others (p.32-35)
Mar 29 – No class today
Apr 5 – Taking by means of compassion (p.35-41)
Apr 12 – Taking by means of compassion cont'd (p.42-48)
Apr 19 – Giving by means of love (p.48-52)
Apr 26 – Meditating on bodhichitta (p.53-55)
May 3 – The practice in the meditation break (p.55-60)
May 10 – Group review & discussion p.32-60
May 17 – Training in ultimate bodhichitta p.61-62
May 24 – Meditating on the emptiness of phenomena p.63-68
May 31 – Meditating on the emptiness of the mind p.68-69
June 7 – Meditating on the emptiness of the I p.69-70
June 14 – Training in emptiness during the meditation break p.71-73
June 21 – Group review & discussion p.61-73
June 28 – No class today due to NKT US National Festival
July 5 – Transforming adverse conditions p.75-77
July 12 – Transforming by means of method & wisdom p.78-82
July 19 – Transforming by accumulating merit p.82-85
July 26 – No class today (Summer Break)

Aug 2 – No class today due to NKT International Summer Festival
Aug 9 – No class today due to NKT International Summer Festival
Aug 16 – Transforming by purifying negativities p.85-89
Aug 23 – Remaining practices p.89-91
Aug 30 – Applying the five forces before death p.93-96
Sep 6 – Applying the five forces before death p.97-99
Sep 13 – Applying the five forces at the time of death p.100-103
Sep 20 – Applying the five forces (continued) p.103-108
Sep 27 – Measurement of success in training the mind p.109-112
Oct 4 – Group review & discussion p.75-112
Oct 11 – No class today due to NKT International Fall Festival
Oct 18 – The commitments of training the mind (p.113-118)
Oct 25 – The commitments of training the mind cont'd (p.119-122)
Nov 1 – The commitments of training the mind cont'd (p.122-125)
Nov 8 – The precepts of training the mind (p.127-132)
Nov 15 – The precepts of training the mind cont'd (p.132-136)
Nov 22 – The precepts of training the mind cont'd (p.137-144)
Nov 29 – The precepts of training the mind & conclusion (p.144-153)
Dec 6 – Group review & discussion p.113-153
Dec 13 – Exam