Foundation Program: In-Depth Study Program in Modern Buddhism
Meets twice each week:
Wednesdays, 7:00pm – 9:00pm
Saturdays, 10:30am – 12:30pm
(Please check class schedule for exact dates and exceptions)
In-Depth Study Program
with Buddhist monk, Kelsang Tashi
This is not a drop-in class. Enrollment is required. 
Cost: $65 per month
(includes these weekly study classes and access to all our drop-in meditation classes)
Location:
Kadampa Meditation Center Miami
1273 Coral Way, Miami, FL 33145
The Foundation Program (FP) is designed for anyone who wishes to deepen their understanding and experience of Kadampa Buddhism through a systematic study of essential Buddhist texts and their commentaries by Venerable Geshe Kelsang Gyatso.
Anyone can join and experience the great benefits of being part of this regular study program. Through this we can improve our good heart, our wisdom, and our cherishing of others by going deeper into our study and meditation practice.
Joyful Path of Good Fortune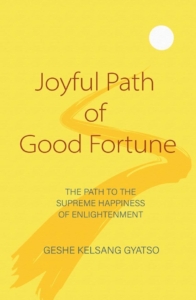 The current book being studied is Joyful Path of Good Fortune.
This book provides a clear and comprehensive explanation of the entire path to enlightenment. We all have the potential for self-transformation, and a limitless capacity for the growth of good qualities, but to fulfill this potential we need to know what to do along every stage of our spiritual journey. With this book, Geshe Kelsang Gyatso offers us step-by-step guidance on the meditation practices that will lead us to lasting inner peace and happiness. With extraordinary clarity, he presents all Buddha's teachings in the order in which they are to be practiced, enriching his explanation with stories and illuminating analogies. This is a perfect guidebook to the Buddhist path.
What happens at each class?
Before each class, students study an assigned portion of the text, usually a few pages long, and try to memorize the essential points. Each class begins with short prayers and a guided meditation. The teacher then reads the assigned section from the book while giving commentary to the text. The students then discuss the material in pairs. The teacher and students conclude by deciding what to meditate on in the next class and how to practice during the coming days before the next class.
What are the program commitments?
Students may enroll to study either a whole book or a part of a book. When students join the Foundation Program, they make the following commitments:
To attend every class, unless there is a valid family, health or work-related reason for missing.

To apply effort to memorize the Condensed Meaning of the Text for the part of the book studied.

To take a written examination at the end of each part of the book studied.

To attend at least one drop-in meditation class or prayer session at the Center each week in addition to these study classes.
How to Enroll
If you would like to enroll in the program, please email us at info@meditationinmiami.org.
This is not a drop-in class, enrollment is required. Anyone who feels ready for this type of study may enroll. You may attend one class as a trial before deciding to enroll. Please email us in advance to schedule your trial class.
2019 SUMMER TERM
Joyful Path of Good Fortune
Wed, June 12 – Preface, The Stages of the Path (p.ix-5)
Wed, June 19 – The Qualities of the Author (p.6-19)
Wed, June 26 – The Qualities of the Teaching (p.20-29)
Wed, July 3 – Listening to Dharma (p.30-40)
Wed, July 10 – Teaching Dharma (p.40-46)
Wed, July 17 – Review & Discussion Class
Summer Break – July 24 to August 7
Wed, Aug 14 – Preparing for Meditation, Cleaning the Meditation Room and Setting up a Shrine (p.47-57)
Wed, Aug 21 – Arranging Suitable Offerings and Sitting in the Correct Posture (p.57-62)
Wed, Aug 28 – Going for Refuge (p.62-71)
Wed, Sept 4 – Generating and Enhancing Bodhichitta, Visualizing the Field for Accumulating Merit (p.72-81)
Sat, Sept 7 – Prostration, Offering & Confession (p.81-92)
Wed, Sept 11 – Rejoicing up to Offering the Mandala (p.92-98)
Sat, Sept 14 – Requesting Blessings (p.98-105)
Wed, Sept 18 – Review & Discussion Class
Fall Festival Break – September 21 to October 5
Classes resume after the break on Wednesday, October 9th.