Foundation Program: In-Depth Study Program in Modern Buddhism

Free Introductory Talk for New and Prospective Students
Wednesday, August 15, 2018
7:00pm – 9:00pm
Would you like to deepen your understanding and practice of meditation and modern Kadampa Buddhism? Please join us for a free introductory talk to learn more about our in-depth study program, the Foundation Program (FP). In the Fall 2018 term we will be continuing our study of Part 1 of the book "How to Understand the Mind" by Venerable Geshe Kelsang Gyatso Rinpoche.
Although we are in the middle of studying the first part of the book, we will be starting a new chapter in August so this is a good time for new students to join in. The book is structured in such a way that each section stands on its own, so don't worry about having missed the earlier sections.
If you feel you may be ready for a more in-depth exploration of Buddhist meditation please feel free to join this introductory talk to learn more about the program and to meet the other students. Those who attend this introductory talk are also welcome to participate in a free trial class on August 29, 2018 after which they can enroll in the program if they wish.
Wednesdays
7:00pm – 9:00pm
In-Depth Study Program
with Buddhist monk, Kelsang Tashi
This is not a drop-in class. Enrollment is required. 
Cost: $65 per month
(includes these weekly study classes and access to all our drop-in meditation classes)
Location:
Kadampa Meditation Center Miami
1273 Coral Way, Miami, FL 33145
The Foundation Program (FP) is designed for anyone who wishes to deepen their understanding and experience of Kadampa Buddhism through a systematic study of essential Buddhist texts and their commentaries by Venerable Geshe Kelsang Gyatso.
Anyone can join and experience the great benefits of being part of this regular study program. Through this we can improve our good heart, our wisdom, and our cherishing of others by going deeper into our study and meditation practice.
How to Understand the Mind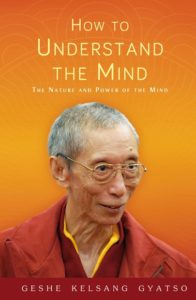 The current book being studied is How to Understand the Mind, Part 1.
This book offers us deep insight into our mind, and shows how an understanding of its nature and functions can be used practically in everyday experience to improve our lives.
Part 1 is a practical guide to developing and maintaining a light, positive mind – showing how to recognize and abandon states of mind that harm us, and to replace them with peaceful and beneficial ones.
Part 2 describes different types of mind in detail, revealing the depth and profundity of the Buddhist understanding of the mind. It concludes with a detailed explanation of meditation, showing how by controlling and transforming our mind we can attain a lasting state of joy, independent of external conditions.
What happens at each class?
Before each class, students study an assigned portion of the text, usually a few pages long, and try to memorize the essential points. Each class begins with chanted prayers and a guided meditation. The teacher then reads the assigned section from the book while giving commentary to the text. The students then discuss the material in pairs. The teacher and students conclude by deciding what to meditate on in the next class and how to practice during the coming week.
What are the program commitments?
Students may enroll to study either a whole book or a part of a book. When students join the Foundation Program, they make the following commitments:
To attend every class, unless there is a valid family, health or work-related reason for missing.

To apply effort to memorize the Condensed Meaning and Root Text of the part of the book studied.

To take a written examination at the end of each part of the book studied.

To attend at least one drop-in meditation class or prayer session at the Center each week.
How to Enroll
This is not a drop-in class, enrollment is required.
You may attend one class as a trial before deciding to enroll. If you enroll, then you should have the intention to complete the remainder of the book or part of the book for which you have joined.
To schedule your trial class or request enrollment information, please email us at info@meditationinmiami.org.
Fall 2018
The schedule is subject to change. All changes will be posted on this page.
Aug 15 – Special Free Introductory Class & Community Dinner
Aug 22 – Public Talk with Gen Norden, Guest Teacher from KMC Austin
Six Root Delusions
Aug 29 – Desirous Attachment (p.113-116)
Sep 5 – Anger (p.117-120)
Sep 12 – Deluded Pride (p.120-123)
Sep 19 – Ignorance (p.124-126)
Sep 26 – Deluded Doubt (p.126-129)
Oct 3 – Deluded View, Part 1 (p.129-136)
Oct 10 – Deluded View, Part 2 (p.136-143)
Oct 17 – Deluded View, Part 3 (p.143-147)
Oct 24 – Public Talk with Kelsang Tabkay, Guest Teacher from KMC Phoenix
Oct 31 – No Class Today: Fall Break
Nov 7 – Group Review & Discussion
Twenty Secondary Delusions & Four Changeable Mental Factors
Nov 14 – Aggression, Resentment, Spite & Jealousy (p.149-152)
Nov 21 – No Class Today: Thanksgiving Break
Nov 28 – Miserliness, Concealment, Pretension (p.152-154)
Dec 5 – Self-Satisfaction, Harmfulness, Shamelessness, Inconsideration (p.154-157)
Dec 12 – Dullness, Distraction, Mental Excitement, Non-Faith, Laziness (p.157-160)
Dec 19 – Community Dinner & Holiday Party
Dec 26 – No Class: Holiday Break
Jan 2 – No Class: Holiday Break
Jan 9 – Non-Conscientiousness, Deluded Forgetfulness, Non-Alertness (p.160-163)
Jan 16 – Four Changeable Mental Factors (p.165-170)
Jan 23 – Group Review & Discussion
Jan 30 – Exam for How to Understand the Mind, Part One