Description
About the Classes
Suitable for everyone, these meditation classes offer simple, practical methods to improve the quality of our lives and develop inner peace. These classes focus on using Buddhist understanding to help us solve our daily problems, let go of negative minds and find the lasting happiness we seek.
Each class includes guided meditation, a practical teaching, and an opportunity to ask questions. Although taught as a series, each class is self-contained and can be attended individually.
Upcoming Class Schedule & Topics
August/September 2023 – How to Transform Your Life
Through spiritual practice we can transform our life and create the causes for a future filled with peace, happiness and good fortune. In this series we will explore basic spiritual practices that empower us to make positive changes in our life.
Aug 3 – Finding happiness from a different source
Aug 10 – The key to happiness: Understanding our Mind
Aug 17 – Believing in our potential
Aug 24 – Acting with integrity and consideration for others
Aug 31 – Letting go of attachment
Sep 7 – Learning to love others
Sep 14 – Learning to encourage ourself
Sep 21 – Meaningful objects of meditation: What we should know and abandon
Sep 28 – How to stop suffering: What we should practice and attain 
---
About the Teachers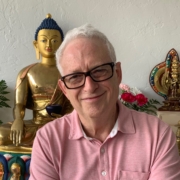 Lyn Fox is a longtime Buddhist meditation practitioner, and has taught meditation classes at Kadampa Centers in Florida and New Mexico. He is appreciated for his joyful and practical presentation of the teachings.
---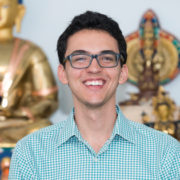 Patrick Davidson has been studying at practicing meditation in the Kadampa tradition for many years. He has taught many classes at KMC Miami, and is appreciated for his warmth and joy in presenting Buddhist teachings.
---
Cancellation Policy
If you cancel more than 24 hours before the start of the class/event we will refund all except 25%. If you cancel within 24 hours before the start of the class/event, no refunds are given. Any non-refunded fees arising from cancellations are donated to the NKT-IKBU International Temples Project.