Description
About the Classes
Suitable for everyone, these meditation classes offer simple, practical methods to improve the quality of our lives and develop inner peace. These classes focus on using Buddhist understanding to help us solve our daily problems, let go of negative minds and find the lasting happiness we seek.
Each class includes guided meditation, a practical teaching, and an opportunity to ask questions. Although taught as a series, each class is self-contained and can be attended individually.
Upcoming Class Schedule & Topics
May 2023 – Healing from Painful Emotions
In this series of classes we will explore advice from the Buddhist tradition to help us to heal our own mind when we experience painful emotions. Through learning to recognize and manage the painful emotions that disturb our mind, we can gradually free ourself from their influence and experience real inner peace and freedom.
This series is based on the book "How to Understand the Mind" by Geshe Kelsang Gyatso.
https://tharpa.com/us/how-to-understand-the-mind.html
May 1 – How to understand our painful emotions
May 8 – Reducing stress, frustration and negative thinking
May 15 – Letting go of resentments and attachments
May 22 – Healing from anxiety and depression
May 29 – Getting over jealousy
---
June 2023 – How to Solve our Human Problems: The Four Noble Truths
"You should know sufferings. You should abandon origins. You should attain cessations. You should practice the path." 
– Buddha, Sutra of the Four Noble Truths
We all want to be happy, but sometimes the harder we try to get certain things, the more unhappy we become! Usually, we tend to blame external situations or other people for our suffering and problems, but if we let go of the distractions and negativities in our own mind, external influences will have less and less power to make us miserable. These classes will help us to see the underlying causes of our mental pain and dissatisfaction, then take a solution-oriented approach to letting go of the bad mental habits that keep us stuck.
This series is based on the book How to Solve our Human Problems by Geshe Kelsang Gyatso
https://tharpa.com/us/how-to-solve-our-human-problems-us.html
June 5 – The power of the mind: Introduction
June 12 – What's our problem? Desire
June 19 – What's wrong with uncontrolled desire? Suffering
June 26 – The inner source of unhappiness: Origins
July 3 – Inner peace is possible: Cessations
July 10 – Discipline, meditation and wisdom: The Path
---
About the Resident Teacher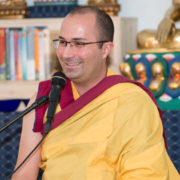 Gen Kelsang Tashi is a Buddhist monk and the Resident Teacher of Kadampa Meditation Center Miami. He has been practicing and teaching meditation in the Kadampa tradition for over 15 years. His gentle approach to meditation emphasizes the importance of keeping a happy and positive mind. He is appreciated for his clear, light-hearted and practical presentation of Buddhist teachings.
---
Cancellation Policy
If you cancel more than 24 hours before the start of the class/event we will refund all except 25%. If you cancel within 24 hours before the start of the class/event, no refunds are given. Any non-refunded fees arising from cancellations are donated to the NKT-IKBU International Temples Project.