Description
Take a break during your day and enjoy a brief talk and guided meditation to help relax and refresh your mind. By practicing even just a few minutes of meditation our whole day can change. By connecting to our heart, and intentionally cultivating inner peace, we can access the best of ourselves and learn to live from this place.
While the meditations we offer are based on Buddhist teachings, they generally appeal to anyone wanting to cultivate a deeper state of peace and authentic happiness. No previous experience is necessary. Everyone is welcome!
---
Upcoming Class Schedule & Topics
May 2023 – Meditations for a Kind Heart
In these classes we will explore how to maintain a good heart of loving kindness towards others in our daily lives, which will make our mind more peaceful and positive, and help us to be of greater benefit to others.
May 16 – Cherishing others
May 23 – Taking away suffering
May 30 – Giving happiness
---
June/July 2023 – A Happy and Meaningful Way of Life: The Six Perfections
In this series of classes we will begin exploring the bodhisattva's way of life. A bodhisattva is a person who is striving for spiritual enlightenment motivated by love and compassion. Through practicing the bodhisattva's way of life, we can make our own life very meaningful and become a source of inspiration and benefit for others. 
June 6 – A meaningful way of life: The practice of the six perfections
June 13 – The joy of benefiting others: The perfection of giving
June 20 – Preventing future suffering: The perfection of moral discipline
June 27 – Staying peaceful in difficult times: The perfection of patience
July 4 – No class today (holiday)
July 11 – Enjoying our spiritual practices: The perfection of effort
July 18 – Finding inner peace: The perfection of concentration
July 25 – Understanding the power of the mind: The perfection of wisdom
---
About the Teacher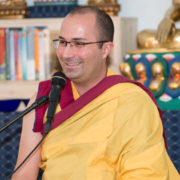 Gen Kelsang Tashi is a Buddhist monk and the Resident Teacher of Kadampa Meditation Center Miami. He has been practicing and teaching meditation in the Kadampa tradition for over 15 years. His gentle approach to meditation emphasizes the importance of keeping a happy and positive mind. He is appreciated for his clear, light-hearted and practical presentation of Buddhist teachings.
---
Cancellation Policy
If you cancel more than 24 hours before the start of the class/event we will refund all except 25%. If you cancel within 24 hours before the start of the class/event, no refunds are given. Any non-refunded fees arising from cancellations are donated to the NKT-IKBU International Temples Project.