Description
Take a break during your day and enjoy a brief talk and guided meditation to help relax and refresh your mind. By practicing even just a few minutes of meditation our whole day can change. By connecting to our heart, and intentionally cultivating inner peace, we can access the best of ourselves and learn to live from this place.
While the meditations we offer are based on Buddhist teachings, they generally appeal to anyone wanting to cultivate a deeper state of peace and authentic happiness. No previous experience is necessary. Everyone is welcome!
---
Upcoming Class Schedule & Topics
Tuesday lunchtime classes have been discontinued until further notice
---
About the Teacher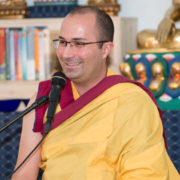 Gen Kelsang Tashi is a Buddhist monk and the Resident Teacher of Kadampa Meditation Center Miami. He has been practicing and teaching meditation in the Kadampa tradition for over 15 years. His gentle approach to meditation emphasizes the importance of keeping a happy and positive mind. He is appreciated for his clear, light-hearted and practical presentation of Buddhist teachings.
---
Cancellation Policy
If you cancel more than 24 hours before the start of the class/event we will refund all except 25%. If you cancel within 24 hours before the start of the class/event, no refunds are given. Any non-refunded fees arising from cancellations are donated to the NKT-IKBU International Temples Project.