Description
"Since happiness and suffering are parts of the mind, if we want to avoid suffering and find true happiness we need to understand the nature and functions of the mind." – How to Transform Your Life, Geshe Kelsang Gyatso
Anxiety has become an epidemic in our society these days. Even if you solve the external problem that you're worried about, the mind of anxiety finds something else to fixate on. Then there is the feeling of general anxiety that doesn't seem to be about anything in particular. Depression almost always seems to go with anxiety, so that even when the overactive mind calms down, you sink into feelings of discouragement and hopelessness. The Buddhist approach to healing the mind centers around meditation as a tool to re-empower your own mind, from the inside out. Through better understanding our mind, solutions can be found that are impossible otherwise.
No prior experience of meditation is necessary to attend. Everyone is welcome!
Schedule
11:00am-12:15pm – Session 1 – Understanding the inner sources of anxiety and depression
12:15pm-1:15pm – Lunch break  (vegetarian lunch will be provided)
1:15pm-2:30pm – Session 2 – Healing our mind with meditation
---
About the Teacher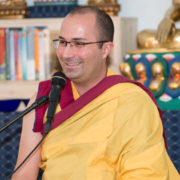 Gen Kelsang Tashi is a Buddhist monk and the Resident Teacher of Kadampa Meditation Center Miami. He has been practicing and teaching meditation in the Kadampa tradition for over 15 years. His gentle approach to meditation emphasizes the importance of keeping a happy and positive mind. He is appreciated for his clear, light-hearted and practical presentation of Buddhist teachings.
---
Cancellation Policy: If you cancel 24 hours prior to commencement of the event we will refund all except 25%. If you cancel on, or after, the event, no refunds are given. Exceptions may be made in circumstances such as sickness or bereavement; you should apply by e-mail to ad@meditationinmiami.org within 2 weeks of the end of the event. Any non-refunded fees arising from cancellations are donated to the NKT-IKBU International Temples Project.