Description
An extraordinary potential for peace, happiness and goodness exists within all of us. Through meditation practice we can begin to recognize and awaken this potential. However sometimes we experience inner obstacles that interfere with our spiritual practices, such as self-doubt, bad habits and discouragement. In this special talk, visiting teacher Kadam Morten will share practical advice and encouragement that will give us confidence to overcome our obstacles and make positive changes in our life. 
---
About the Teacher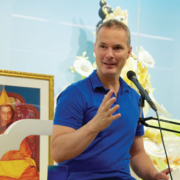 Kadam Morten Clausen is the Eastern US National Spiritual Director of the New Kadampa Tradition and the Resident Teacher at Kadampa Meditation Center New York City. He is a greatly admired meditation teacher, especially known for his clarity, humor and inspirational presentation of Dharma. His teachings are always practical and easy to apply to everyday life. Through his gentle and joyful approach and his peaceful example, he has helped many people find true happiness in their hearts. Kadam Morten has been teaching in the US for more than 20 years and in addition to his local teaching activities in New York City, he also teaches and guides retreats regularly throughout the United States and Europe.
---
Cancellation Policy: If you cancel 24 hours prior to commencement of the event we will refund all except 25%. If you cancel on, or after, the event, no refunds are given. Exceptions may be made in circumstances such as sickness or bereavement; you should apply by e-mail to ad@meditationinmiami.org within 2 weeks of the end of the event. Any non-refunded fees arising from cancellations are donated to the NKT-IKBU International Temples Project.