Monthly Meditation Class in Key West (Seasonal)
with Buddhist monk, Gen Kelsang Tashi
2020 Season Dates:
TBA
Time: TBA
Location:
Unity of the Keys
1101 Virginia Street, Key West, FL 33040
Cost: $15 per class
Included for KMC Miami members
Key West Newsletter Signup
Subscribe to our email newsletter to receive the latest information about our meditation classes and events in Key West.
Meditation Classes in Key West
These meditation classes offer simple, practical methods to improve the quality of our lives and develop inner peace. During these classes we will explore various meditation and mindfulness practices from the Kadampa Buddhist tradition that will help us to solve our daily problems, let go of negative minds and find the lasting happiness we seek.
The classes are open to all, and no prior experience of meditation is needed. Everyone is welcome!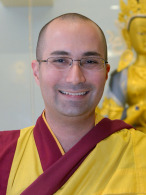 Kelsang Tashi is a Buddhist monk and the Resident Teacher of Kadampa Meditation Center Miami. He has been practicing meditation in the Kadampa tradition for over 10 years. His gentle approach to meditation emphasizes the importance of keeping a happy and positive mind. He is appreciated for his clear, light-hearted and practical presentation of Buddhist teachings.