Description
About the Classes
Suitable for everyone, these meditation classes offer simple, practical methods to improve the quality of our lives and develop inner peace. These classes focus on using Buddhist understanding to help us solve our daily problems, let go of negative minds and find the lasting happiness we seek.
Each class includes guided meditations, practical teachings, and an opportunity to ask questions. Each class is self-contained and can be attended individually. No previous experience is necessary. Everyone is welcome.
Upcoming Class Dates & Topics
The Buddhist Way of Loving Kindness
Guided meditations and teachings with modern Buddhist teacher Todd Ellenberg
"The mind that cherishes all living beings is extremely precious. Keeping such a good heart will result only in happiness for ourself and all those around us."
– Geshe Kelsang Gyatso
We all want to be loved purely and unconditionally, but how do we develop and maintain pure, unconditional love for others? In this series of classes we will explore how to do this in a balanced, healthy way that is ultimately for the greatest good of both ourselves and others. This series of classes is based on the instructions in the book Universal Compassion by Geshe Kelsang Gyatso. 
These classes are based on the book "Universal Compassion: Inspiring Solutions for Difficult Times" by Geshe Kelsang Gyatso – https://tharpa.com/us/universal-compassion.html
Jan 5 – Introduction: The power of love and compassion to transform our mind
Jan 12 – Learning to love others: Meditating on equalizing self and others
Jan 19 – Getting out of our own head: Contemplating the dangers of self-cherishing
Jan 26 – Finding a true source of happiness: Contemplating the benefits of cherishing others
Feb 2 – Putting others first: Meditating on exchanging self with others
Feb 9 – Stopping suffering: Meditating on taking by means of compassion
Feb 16 – Making others happy: Meditating on giving by means of love
Feb 23 – Recognizing our spiritual potential: Meditating on bodhichitta
Mar 2 – Making our daily life meaningful: The practice in the meditation break
---
About the Teacher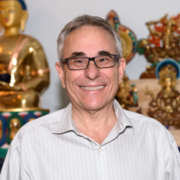 Todd Ellenberg is a longtime Buddhist meditation practitioner and member of our local Kadampa Center, and is enrolled in our in-depth study program. He has taught many meditation classes at our Center and its branches over the years, and is appreciated for his clear and engaging presentation of Buddhist teachings.
---
Cancellation Policy
If you cancel more than 24 hours before the start of the class/event we will refund all except 25%. If you cancel within 24 hours before the start of the class/event, no refunds are given. Any non-refunded fees arising from cancellations are donated to the NKT-IKBU International Temples Project.