Description
"Dharma practitioners need to make a continuous effort to improve their mindfulness, both in and out of meditation."
– Geshe Kelsang Gyatso
In this special Monday evening class, visiting teacher Gen Norbu will share some essential advice on how to practice mindfulness together with our daily activities. Through staying mindful of Buddha's teachings (Dharma) we can transform our daily activities into causes of spiritual growth and development, and experience much greater peace, joy and meaning in life. 
---
About the Teacher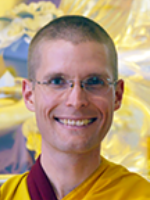 Gen Kelsang Norbu is the Resident Teacher at KMC North Carolina. He was ordained as a Buddhist monk in 2006, and has been teaching meditation and Buddhism for over 16 years. He is known for his loving and gentle nature and holds a very clear and sharp understanding of Buddha's teachings. Through his teachings and his personal example, Gen Norbu shows us how to integrate Buddha's teachings into our daily life.
---
Cancellation Policy: If you cancel 24 hours prior to commencement of the event we will refund all except 25%. If you cancel on, or after, the event, no refunds are given. Exceptions may be made in circumstances such as sickness or bereavement; you should apply by e-mail to ad@meditationinmiami.org within 2 weeks of the end of the event. Any non-refunded fees arising from cancellations are donated to the NKT-IKBU International Temples Project.