Description
In his teachings on training the mind, Buddha explained many methods for transforming difficult conditions into causes of spiritual growth and development. By transforming our adversities in this way we can learn to maintain a peaceful and positive mind even in the midst of challenging circumstances. In this half-day course we will explore these teachings and practices taught by Buddha and try to gain some familiarity with them through guided meditation.
Recommended Reading
The teachings presented in this course will be based on the book:
Universal Compassion: Inspiring Solutions for Difficult Times
by Geshe Kelsang Gyatso
An e-book version is available to purchase and download from Tharpa Publications
Schedule
2:00pm – 3:15pm – Session 1
3:15pm – 3:45pm – Break
3:45pm – 5:00pm – Session 2
Event held online via live-streaming video.
After registration a link to view the live stream will be emailed to you 30 minutes before the event start time.
About the Teacher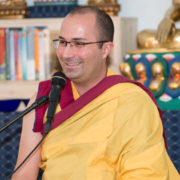 Gen Kelsang Tashi is a Buddhist monk and the Resident Teacher of Kadampa Meditation Center Miami. He has been practicing meditation in the Kadampa tradition for over 12 years. His gentle approach to meditation emphasizes the importance of keeping a happy and positive mind. He is appreciated for his clear, light-hearted and practical presentation of Buddhist teachings.
---
Cancellation Policy: If you cancel 24 hours prior to commencement of the event we will refund all except 25%. If you cancel on, or after, the event, no refunds are given. Exceptions may be made in circumstances such as sickness or bereavement; you should apply by e-mail to ad@meditationinmiami.org within 2 weeks of the end of the event. Any non-refunded fees arising from cancellations are donated to the NKT-IKBU International Temples Project.