Description
About the Program
For those who wish to gain deeper understanding and experience of meditation and modern Buddhism, KMC Miami offers an in-depth study program called the "Foundation Program".
Anyone can join and experience the great benefits of being part of this regular study program. Through this program we can improve our inner peace, wisdom and other good qualities by going deeper into our study and practice of Buddhist meditation.
What book is being studied?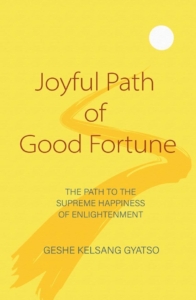 We are currently studying the book "Joyful Path of Good Fortune" by Venerable Geshe Kelsang Gyatso Rinpoche. This book provides a clear and comprehensive explanation of the entire path to enlightenment. We all have the potential for self-transformation, and a limitless capacity for the growth of good qualities, but to fulfill this potential we need to know what to do along every stage of our spiritual journey. With this book, the author offers us step-by-step guidance on the meditation practices that will lead us to lasting inner peace and happiness. With extraordinary clarity, he presents all Buddha's teachings in the order in which they are to be practiced, enriching his explanation with stories and illuminating analogies. This is a perfect guidebook to the Buddhist path.
When do the classes meet?
The classes meet every Wednesday evening from 7pm – 9pm, as well as on some Saturday mornings from 10:30am-12:30pm. Saturday morning classes are announced well in advance on the study class web page, and occur once or twice a month at most.
What are the program commitments?
Students may enroll to study either the whole book or a part of the book. When students join the Foundation Program, they make the following personal commitments which help them get the most out of the program:
To attend every class, unless there is a valid family, health or work-related reason for missing.

To apply effort to memorize the

Condensed Meaning

of the Text

for the part of the book studied.

To take a written examination at the end of each part of the book studied.

To attend at least one drop-in meditation class or prayer session at the Center each week in addition to these classes.
How much does it cost?
Students may attend this introductory talk and one trial class on January 15th for free. After that, enrollment is required to continue in the program. The cost is $65 per month, which is paid by subscribing to KMC Miami's Plus Membership.
What happens during the classes?
Before each class, students study an assigned portion of the text, usually a few pages long, and try to memorize the essential points. Each class begins with short prayers and a guided meditation. The teacher then reads the assigned section from the book while giving commentary to the text. The students then discuss the material in pairs to summarize their understanding and clarify any questions.
About the Teacher
Gen Kelsang Tashi is a Buddhist monk and the Resident Teacher of Kadampa Meditation Center Miami. He has been practicing meditation in the Kadampa tradition for over 12 years. His gentle approach to meditation emphasizes the importance of keeping a happy and positive mind. He is appreciated for his clear, light-hearted and practical presentation of Buddhist teachings.
Other questions?
There will be a Q&A session during this introductory talk. If you have other questions in advance, please feel free to email us at info@meditationinmiami.org.