Free outdoor guided meditation in the Park
with meditation teacher Patrick Davidson

Enjoy a brief guided meditation to relax and refresh your mind. Everyone is welcome. No experience is necessary.
Meditation enables you to unwind, relax, let go of worry and improve your overall sense of well-being. Whether you simply want to calm your mind or experience deep inner transformation there is a meditation practice that can help you.
Upcoming Dates
Friday, July 21st, 7:00PM – 7:30PM
"Evening Meditation on the Bay" at Margaret Pace Park (Edgewater)
Where to Find Us
Meditations will take place at Margaret Pace Park in Edgewater
1745 N Bayshore Dr, Miami, FL 33132
Meet towards the bay in the North end of the park, East of the basketball courts.
About the Teacher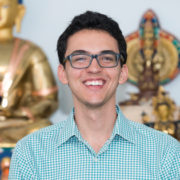 Patrick Davidson has been studying at practicing meditation in the Kadampa tradition for many years. He has taught many classes at KMC Miami, and is appreciated for his warmth and joy in presenting Buddhist teachings.